PRODUCT
Acrylic Seamless joint glue (...
Substrate Bonder glue (E-008)
Undermount-sink installation ...
Rodding compound adhesive
Modified silicone (HV-10)
Acrylic Adhesive (Acrylic ser...
Vinyl solvent cement
ABS solvent cement
PP adhesive (PP332)
Plastic Pipe cement
MMA structure adhesive (ST se...
Acrylic Laminate glue (AL-242)
Marble lamination resin (UV-M)
Fire resistant resin (UV-F)
Uvalam Accesory
| | | |
| --- | --- | --- |
| | PRODUCT | Current Location£ºHome > Product > Acrylic Adhesive (Acrylic series) |
Uvalam acrylic adhesive, both solvent acrylic adhesive and Reactive acrylic adhesive, is molecularly welded and it is used to seal chemically, melting two acrylic sheets into one solid sheet for a clear and transparent seam.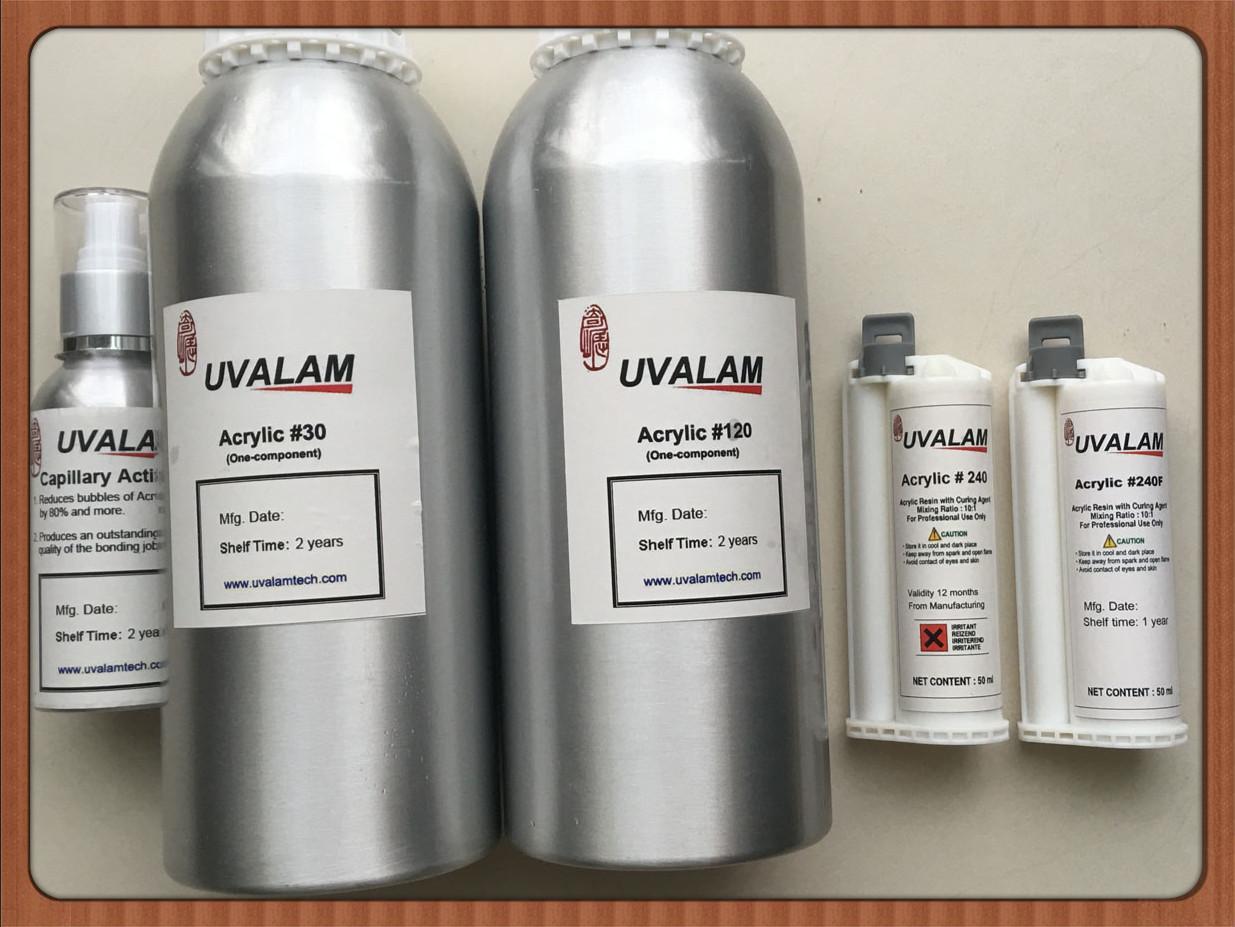 Presently Uvalalm has 4 kind of different acrylic adhesive:
Acrylic #30:
Uvalam acrylic #30 is clear, water-thin, very fast curing solvent adhesive for quickly bond to many thermoplastic, especially acrylic and polycarbonate sheet.
Acrylic #120:
Uvalam Acrylic #120 is a clear and slightly yellowish (colors will not affect the bonding properties and transparency after cured), middle viscosity, fast curing solvent for quick bonding of acrylic sheet. It will also form strong bonds with other thermoplastics, such as styrene, butyrate, Rigid PVC, ABS, PETG and PC to themselves.
Acrylic #240:
Uvalam Acrylic #240 is clear, two-component (10:1) acrylic adhesive, forming high strength joints on acrylic sheet, polyester, Styrene, Butyrate, PETG, Rigid PVC, ABS, PETG, PC and other plastics.
Acrylic #240F:
Uvalam Acrylic #240F is clear, two-component (10:1) acrylic adhesive, and it is with higher viscosit and faster curing time than acrylic #240.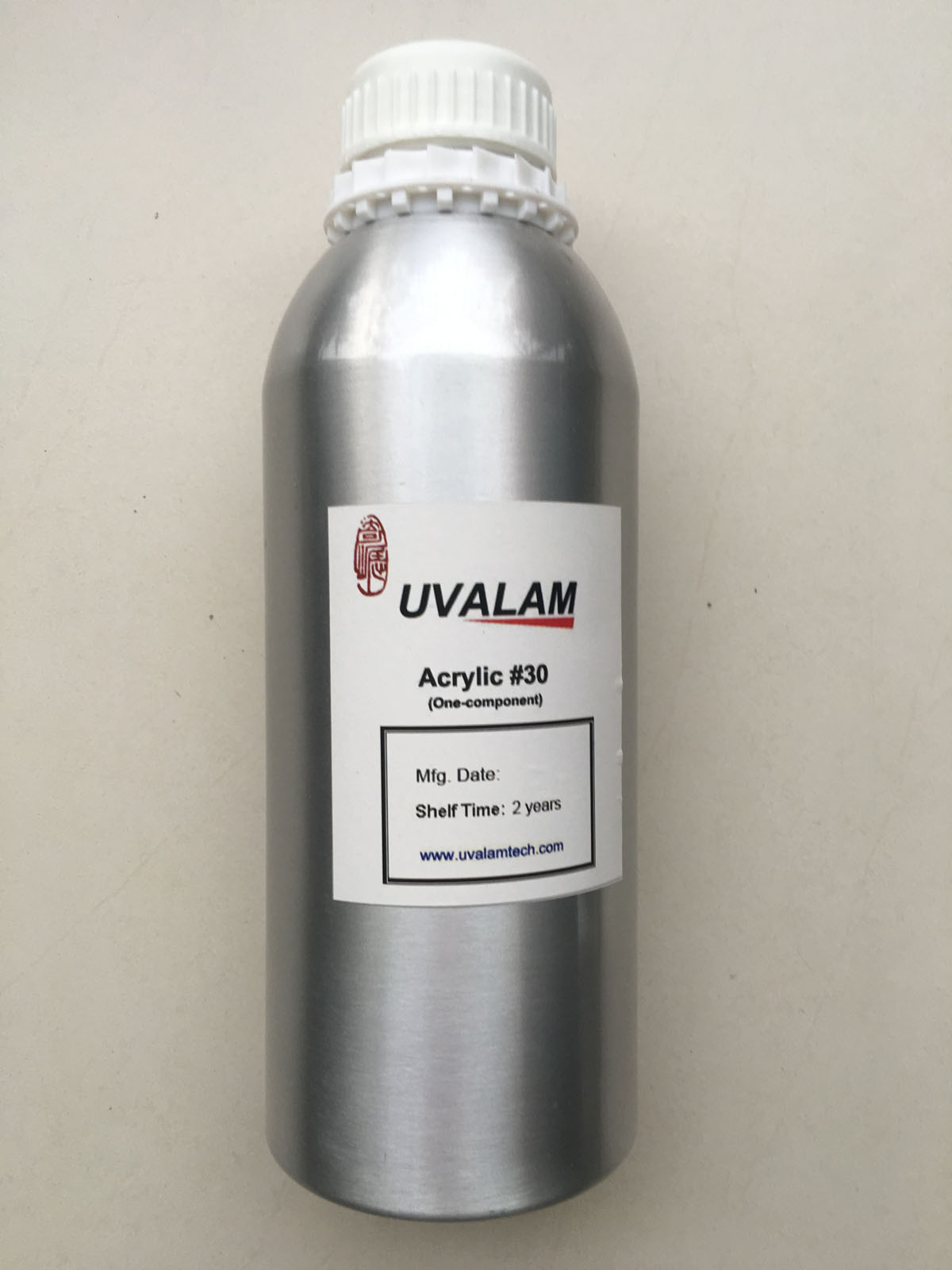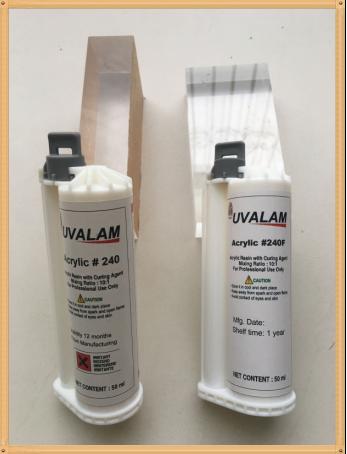 Acrylic #30 Acrylic #120 Acrylic #240 and #240F
---
Capillary activator (CA-30)
UVALAM Capillary activator (CA-30) is designed to clean and eliminate static charge from sensitive surfaces. It reduces bubbles of acrylic #30 and #120 by 90% and more. It saves time and produces an outstanding optical quality of the bonding.
Unlike common cleaners that can scratch or harm the surface, UVALAM Capillary activator is ideal for synthetic material such as acrylic such as plexiglas, Solid surface, granite, marble and many others.
Packing: 120ml per spray metal bottle