Uvalam undermount-sink installation adhesive, composite bonder adhesive (CB-11), is a two component -100% reactive (contains no solvents), fast curing under room temperature, flexible and toughened methacrylate-based adhesive with great bonding strength.
It is with tough, impact resistant for many industrial applications. Also, there is no or little surface preparation in most applications, and remains flexible at low temperatures with excellent impact resistance.
It is used to create strong and flexible bond for many substrates. It is formulated in assembly industry, for bonding different metals (steel, aluminum and other metals) to itself, composites (solid surface, quartz surface and others), and a variety of plastics (PVC-rigid and flexible, ABS, PC, Styrene, acrylic, butyrate, hard rubber and so on).
In surface and sink installation field, it can be used to attach many dissimilar materials (steel, Aluminum, FRP, PVC, ABS, hard rubber and so on) to solid surface, quartz surface, granite, marble.
It makes under-mount sink installation as a simple and easy job. It is the perfect adhesive for installing under-mount fasteners to Solid Surfaces, Quartz Surface and natural stone, due to its high strength, flexibility and impact resistance.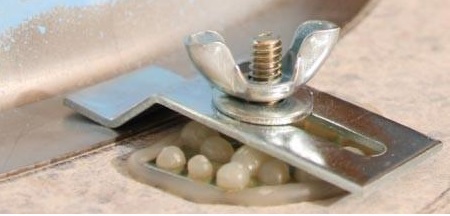 Cartridge packing: cartridge 50ml or cartridge 250ml.